Green Bank Star Quest XIII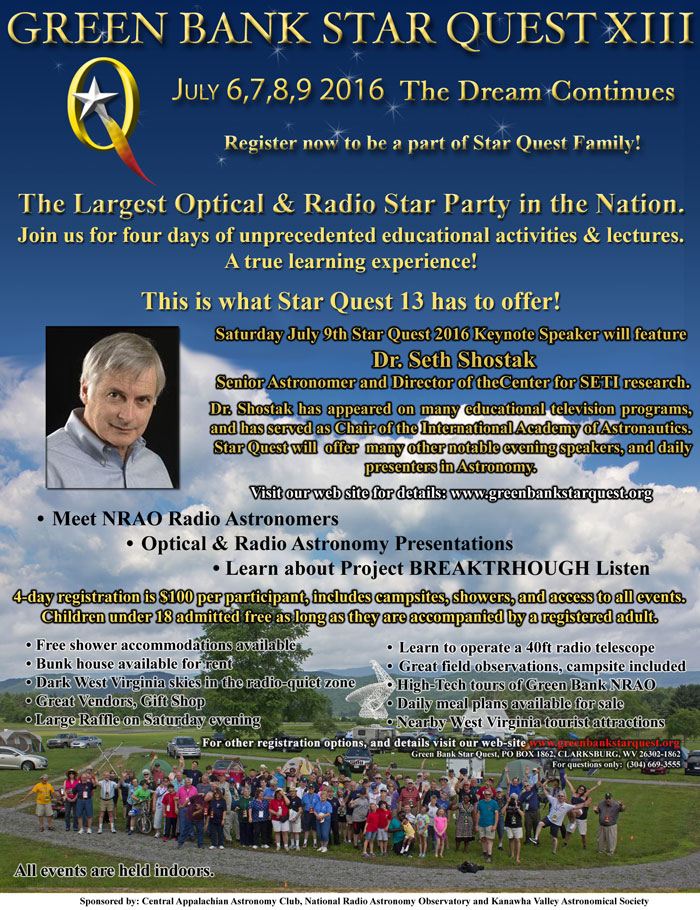 Our 13th annual OPTICAL and RADIO astronomy "Star Party" July 6th - 9th, 2016, held at the National Radio Astronomy Observatory at Green Bank, WV. We have keynote speakers each night, with presentations on the latest in optical & radio astronomy. Featured "Keynote Presentation" Saturday night by Dr. Seth Shostak, Senior Astronomer and director of Center for SETI research. Clinics and additional presentations held daily (indoors) on multiple subjects including Astrophotography. Solar and nighttime observing at your campsite. Campground has graveled roads, sanitary stations and a HOT shower facility (close by). Featuring: a Large Raffle Drawing, Children's Activities, Cafeteria and Snack Bar, and Vendors on site. The 4-day registration fee is just $100. Limited bunkhouse accommodations for additional fee. For additional info see the ad on this page and the other pages of this web site.
For additional info about Dr. Shostak click here.
Registration Link (click here)
Please stay tuned, more information will be posted as it becomes available.